Kings Valet Offers is Home of the Lifetime Ceramic Coating

Program.
30 Days to 30 years; You'll Have Peace of Mind for as Long as You Own Your Vehicle.
Picture a LIFETIME with no worries about maintaining your vehicle's showroom new look.
✅ Reflect your best self on a daily basis; literally.
✅ Wash it in minutes; not hours (and throw away the wax).
✅ Worry less about environmental factors like bug guts, bird droppings and road salt.
✅ Have Your Car Maintained at NO COST; For Life!
All of this is possible through Kings Valet Lifetime Ceramic Coating Program. Kings Valet does not just do the initial install, take your money and block your number. Kings Valet will Install, Maintain and Cover your Ceramic Coating – For Life! At Kings Valet it's not just a coating, its an experience.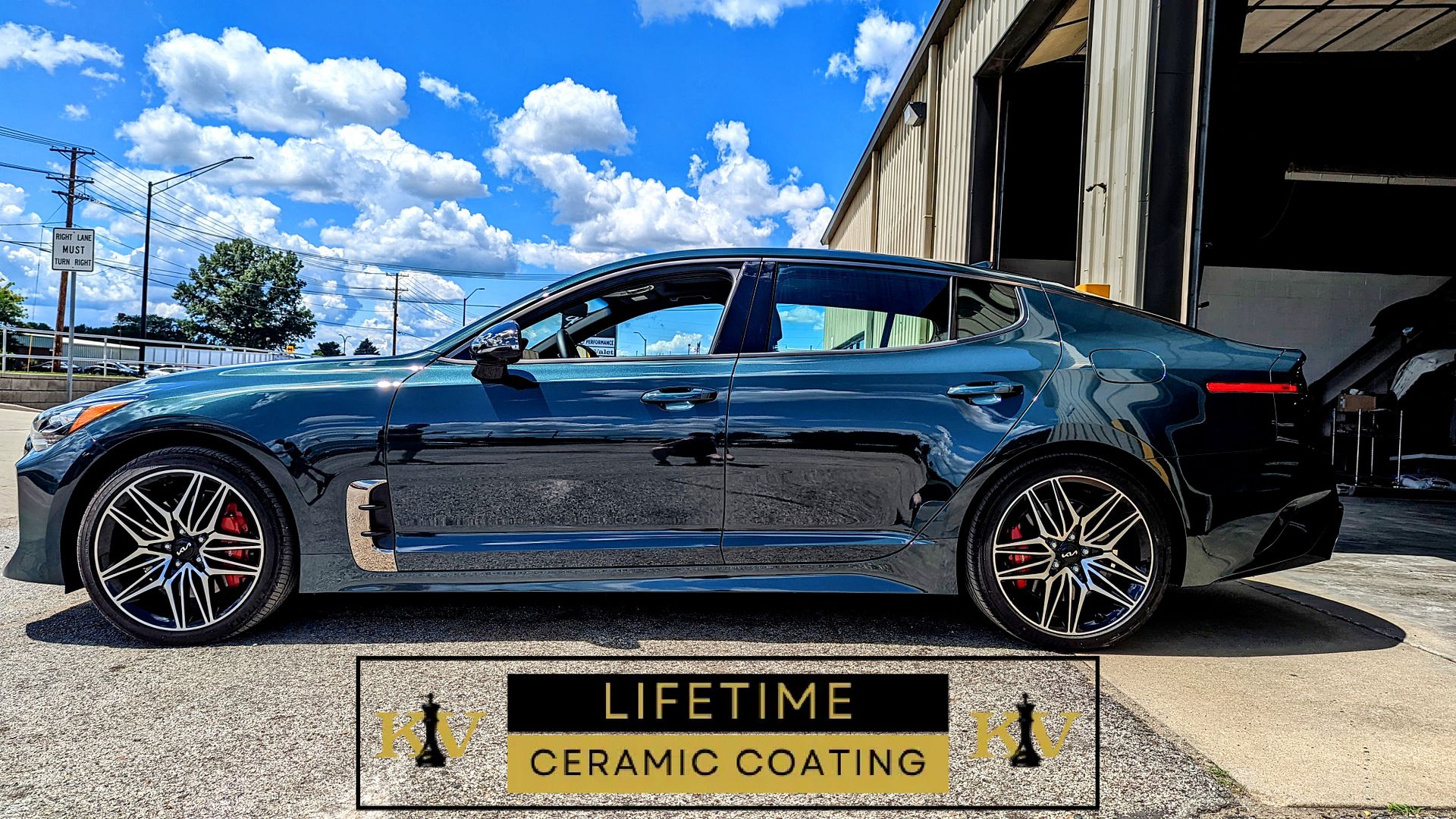 NO Fine-Print. Just 3 Simple Rules:
1) Don't Set Your Hood on Fire

2) No Aggressive Wash Methods

3) Get Your FREE Annual Inspections
And you are covered for LIFE!
Showroom New for YEARS to come! Includes: Free Quarterly Details, Free Annual Inspections and More!​
(Valued at $600+ Per Year)
200% Money Back Guarantee
Worried about your Ceramic Coating Experience? Don't be!
Kings Valet will double your money and cut you a check if they don't blow you away.
We are the ONLY Shop in the area with these LIFETIME guarantees. We are also the ONLY shop in the area with their own in-house brand of Ceramic Coating!
Lifetime Ceramic Coating Inclusions and Cost
Budget Friendly
5 Year Coating
Full Exterior Detail

Buffer Applied Polish

Decontamination Bath

5 Year Coating to Paint
$100 Annual Inspections
$50 Maintenance Washes
200% Money Back Guarantee
Our Lifetime Coating
As Long As You Own The Vehicle
Full Exterior Detail

Buffer Applied Polish

Decontamination Bath

Lifetime Coating to Paint
$0 Annual Inspections
$0 Maintenance for Life
200% Money Back Guarantee
The "Competition"
5 Year Coating
Full Exterior Detail

Buffer Applied Polish

Decontamination Bath

5 Year Coating to Paint

$250 Annual Inspection

$150 Maintenance Washes

Maybe a Refund?
If I could give six stars, I'd be upset I couldn't give seven.
5 Star Reviews on Google / Facebook
Kings Valet's Most Frequently Asked Questions:
What is Ceramic Coating?
Ceramic Coatings bond with your vehicle's clear coat and form a long lasting, high gloss "Nano Coat" barrier. Ceramic Coatings repel water, environmental factors and even prevent lackluster. It protects, enhances and strengthens one of your most valued investments.
When Should I Ceramic Coat My New Car or Truck?
The day you buy it – The longer you leave your vehicle unprotected the higher the risk. Kings Valet understands many people buy cars around the holidays then want to wait for spring to stop in for service. Yes, it will get dirty the day you leave if you have Coated Coated during winter – but this is a MUCH better option than driving around unprotected. Your car will face winter eventually – it might as well be protected from the first day!.
Why Does Ceramic Coating Cost So Much?
This is not something that can be easily answered in one or two sentences – George wrote a blog plost (below) to provide an exact breakdown of costs incurred by Kings Valet ot Install a Ceramic Coating. Click here to learn more: https://www.kingsvaletind.com/post/what-ceramic-coating-should-actually-cost
What if I Have Scratches / Swirl Marks?
Ceramic Coating is a virtually transparent coating so it will not cover or hide scratches and swirl marks.
Kings Valet focuses on New Vehicles and the polish that is included in the Lifetime Ceramic Coating Program is typically enough for these vehicles. However, Kings Valet offers true Paint Correction if your vehicle has seen Drive and Shine a couple times or if you bought used and want to restore it to a showroom level. A single step of correction (~$350) will remove 70%+ of the defects in the clear coat. This level of correction is as far most clients request – as it makes a DRAMATIC change in depth and gloss. However, if you wish to take it further Kings Valet does offer additional levels of Paint Correction based on your needs; not their bottom line.
Does Kings Valet Offer Any Discounts on Ceramic Coating?
The level of value Kings Valet provides far exceeds any other offering in the area. Most shops charge $1500+ for just a 5-7 year ceramic coating installation. Kings Valet is installing and backing their Ceramic Coating for the LIFE of your vehicle. This includes FREE annual inspections and a lifetime of maintenance: a value of over $600 annually. As such, discounts are rare;
They do however offer a discount to First Responders and Military. Thank you for your service! Please Mention this when requesting your booking.
The only other discount Kings Valet offers is a multi-vehicle discount. This discount is applied on the second vehicle and beyond. The second vehicle must be coated within 30 days to qualify.
Do You Offer Payment Plans on Ceramic Coating?
Indirectly – Yes. Kings Valet partnered with Wisetack to offer a "monthly payment" option (financing). The rates can be as low as 0% and terms can be as long as 2 years. It is simple interest; with NO early prepayment penalties. You can pre-qualify here: 
https://wisetack.us/#/z8ass6v/prequalify
 OR for more information click on our "Financing Page" (top menu).
There is NO affect on your credit to see if you qualify
(it is a "soft" not "hard" pull).
Kings Valet does NOT make any form of kick back or commission when you finance – in fact they still pay 3% in fees to process the transaction. This means cash is still King.
Does Kings Valet Ceramic Coat - RVs? Boats? Semis?
For Kings Valet to Protect it – the transportation in question must meet two requirements; wheels and a clear coat. This eliminates all boats. If a clear coat and NOT a gel coat; RVs are $145 a linear foot and includes the majority of the exterior being prepped and coated. For Semis Kings Valet charges an hourly rate of $300. These vehicles do qualify for the lifetime warranty on the Ceramic Coating, but not the maintenance program.